Acceleration Sensitivity
Acceleration Sensitivity is a crystal oscillator's inherent sensitivity to external forces applied in any direction. Quartz crystals have a very special place in our hearts at Bliley. They literally provide the heartbeat of the timing electronics we've all come to rely on daily. Our SC cut crystals enable high-performance acceleration sensitivity and very low phase noise.
Achieve Low Phase Noise
The cool thing with quartz crystals is that if you apply a voltage, the quartz will begin to vibrate. The down-side is that if you apply a vibration, the quartz will produce a voltage. This voltage shows up as phase noise and is a real drag.
The magnitude of this phase noise or frequency deviation is directly proportional to the amount of force or acceleration applied…the higher the force > the greater the frequency instability > the greater the phase noise.
Bliley's low phase noise OCXO oscillators are designed to maintain low phase noise even when higher forces or acceleration are present.
Frequency Instability
Frequency instability due to a crystal's acceleration sensitivity impacts many aspects of oscillator performance such as:
ADEV (Short Term Stability)
RMS Phase Jitter
Learn how to improve dynamic phase noise from our blog post.
Connect and GO!
Installation has never been quicker and easier with the Poseidon series OCXO oscillator. The simplified electronic interface allows for convenient connection access. It also offers easy access to the SMA connection and mounting holes to help save time and frustration. Just connect and let Poseidon do the rest!
dimensions
passive isolation
300
to
2K
hertz offset
Anti-vibration!
The Poseidon Series is specifically designed for high vibration environments where dynamic phase noise performance is paramount. The active compensation and passive isolation provide up to 100x improvement in acceleration sensitivity over standard oscillators. Maintaining low phase noise is a breeze for our oscillators.
isolation
active compensation
10
to
300
hertz offset
compensation
integrated phase noise
(100Hz to 1MHz)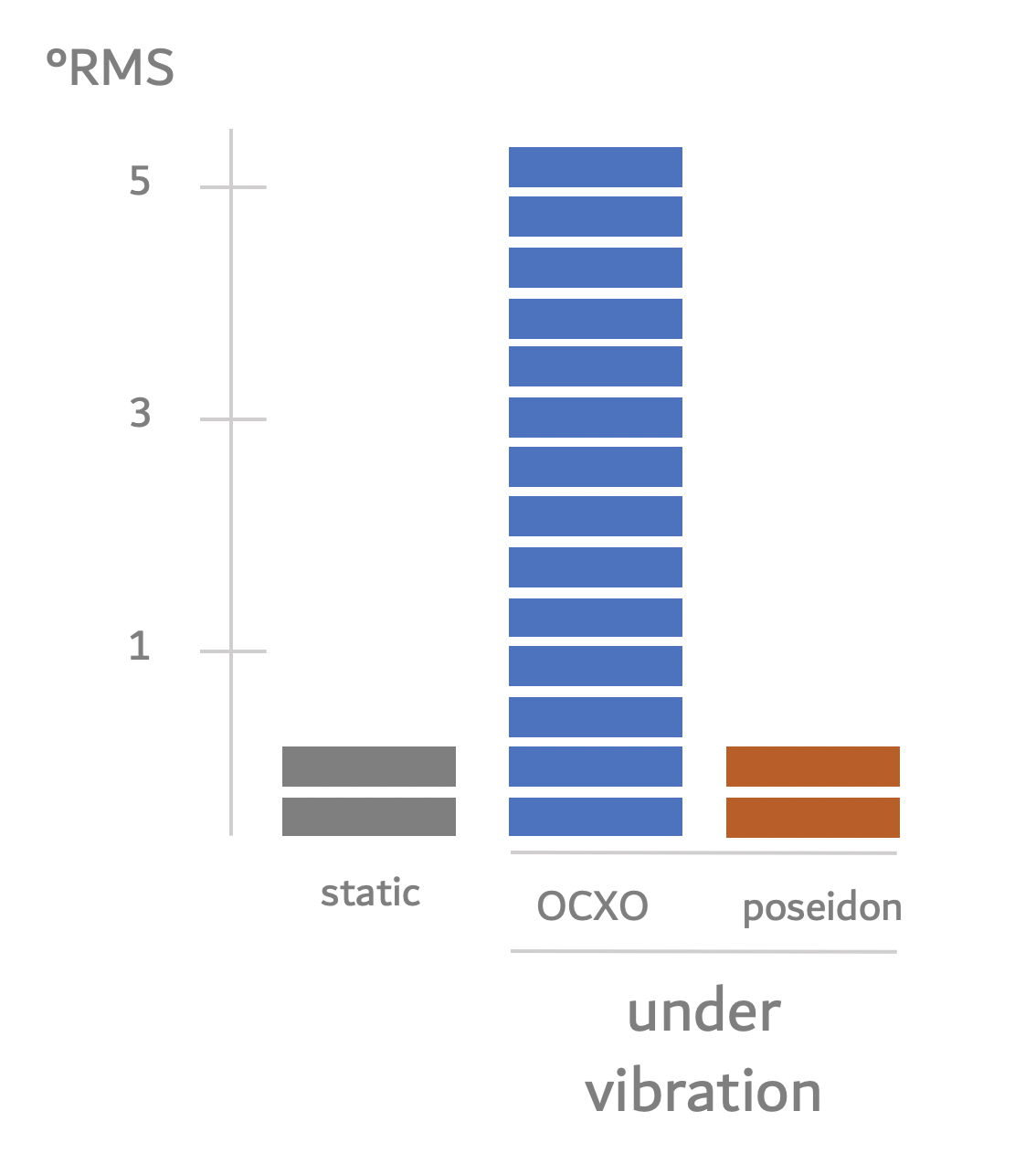 poseidon 1 & 2
0.020
ppb/g
poseidon 2i
0.035
ppb/g
poseidon 3
0.050
ppb/g
poseidon 4
0.010
ppb/g
Challenge us to eliminate all phase noise!
If you have a unique shock and vibration profile that is generating phase noise to your master reference oscillator, we'd like to hear about it! Request a custom quote for a low phase noise oscillator.
g-sensitivity